In my last blog entry I covered the pros and cons of a hiring a second shooter. Another common question I receive from brides is "What is a first look and is it necessary?"
First things first is to explain what a first look is. It's an opportunity for you to see each other before the ceremony and there's nothing I love more than seeing a groom's jaw drop to the floor when he sees his stunning bride to be for the first time.
It gives an opportunity for a beautiful intimate moment away from bridal party and guests. Seeing each other before the ceremony can help calm some of the nerves and help get you excited to strut down that aisle with confidence toward your husband to be. 
If you do decide to do a first look, it is a great way to maximize time for family and bridal party portraits, especially if you are having an evening ceremony. This allows for more time to use the daylight for your portraits and of course for you to enjoy your cocktail hour instead of being whisked away for portrait time right after the ceremony. (Brides & Grooms often don't get to eat or drink much on their wedding day. Remember to stay hydrated, especially if your wedding is during the summer months!)

Photographed with Sarah Andrews Photography
 My question for you is: Are you willing to break away from tradition? If you answered no then a first look may not be for you, but fear not there is another option. It's a first look no look, which is a great in-between. It allows for you to connect with your groom (or bride) to be without breaking from the tradition of first seeing each other when you walk down the aisle. It's still a great way to relieve any feelings of anxiety and make walking down the aisle feel less overwhelming.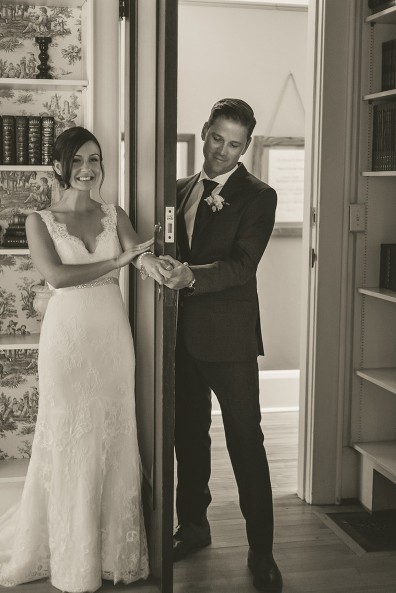 Photoraphed with  Ten2Ten Photography
If you are considering a first look please let me know! They are one of my favourite parts of the day to capture!